Marriage Blessings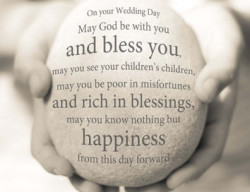 A beautiful blessing adds a very special element to your Thailand Wedding. Blessings can be read by the officiant or maybe a close friend or relative during or at the end of your ceremony and can really help to personalize and reflect both your feelings and your personalities. 
Heres a few of our favorites:
Cherokee Indian  Blessing
Now you will feel no rain, for each of you will be shelter to the other.
Now you will feel no cold, for each of you will be warmth to the other.
Now there is no loneliness, for each of you will be a companion to the other
Although you are two, there is but one life before you.
Go now to enter your days of togetherness and may your days be long and good upon the earth.
Irish Blessing
May the road rise to meet you,
May the wind be always at your back.
May the sun shine warm upon your face,
The rains fall soft upon your fields.
May god be with you and bless you;
May you see your children's children.
May you be poor in misfortune
Whilst rich in blessings.
May you know nothing but happiness from this day forward.
May your hands be forever clasped in friendship
And your hearts joined forever in love.
Your lives are very special;
God has touched you in many ways.
May his blessings rest upon you
And fill your coming days.
You swear by peace and love to stand
Heart to heart and hand in hand.
Hark, o spirit, and hear them now
Confirming this, their sacred vow.
Blessing of the Hands
These are the hands of your best friend, young and strong and full of love for you, that are holding yours on your wedding day, as you promise to love each other today, tomorrow, and forever.
These are the hands that will work alongside yours, as together you build your future.
These are the hands that will passionately love you and cherish you through the years, and with the slightest touch, will comfort you like no other.
These are the hands that will hold you when fear or grief fills your mind.
These are the hands that will countless times wipe the tears from your eyes; tears of sorrow, and tears of joy.
These are the hands that will tenderly hold your children. These are the hands that will help you to hold your family as one.
These are the hands that will give you strength when you need it.
And lastly, these are the hands that even when wrinkled and aged, will still be reaching for yours, still giving you the same unspoken tenderness with just a touch."
May Blessing
You share today the joy of a deep commitment
And a sacred trust, and you have given each other
The most precious gift of love
Treasure it, nurture it and encourage it
With all the honesty you used in creating it
You are sharing something rare and beautiful
Always speak the truth and listen attentively
So that you may understand each other's' thoughts and intentions
Inspire each other by sharing your accomplishments
Say I love you often to retain the warmth between you
Laugh a lot too, even when you are angry
Remember you are each other's best friend
May no person be alien to your compassion
May your larger family be the family of all humankind
May your house be a place of happiness for all who enter it
A place for growing, a place for music, a place for laughter
And may those who are nearest and dearest to you constantly be enriched by the beauty and the energy of your love for each other.
Stand together and for each other always
May each day be a blessing
And the fulfillment of your dreams.
On Marriage
You were born to be together, and together you shall be forevermore.
You shall be together when the wings of death scatter your days.
Ay, you shall be together even in your silent memory.
But let there be spaces in your togetherness,
and let the winds of the heavens dance between you.
Love one another, but make not a bondage of love.
Let it rather be a moving sea between the shores of your souls.
Fill each other's cup, but drink not from one cup.
Give one another of your bread, but eat not of the same loaf.
Sing and dance together and be joyous, but let each of you be alone,
Even as the strings of a lute are alone, though they quiver with the same music.
Give your hearts, but not into each other's keeping,
For only the hand of life can contain your hearts.
And stand together, yet not too near together,
For the pillars of the temple stand apart,
And the oak tree and the cypress grow not in each other's shadow.
Kahlil Gibran, from "The Prophet"
Hindu Marriage Poem
You have become mine forever.
Yes, we have become partners. I have become yours.
Hereafter, I cannot live without you.
Do not live without me.
Let us share the joys.
We are word and meaning, unite.
You are thought and I am sound.
May the night be honey-sweet for us.
May the sun be all honey for us.
May the mornings be honey-sweet for us.
May the plants be honey-sweet for us. May the earth be honey-sweet for us.
Blessing Of The Elements
In times past it was believed that the human soul shared characteristics with all things divine. It is this belief which assigned virtues to the cardinal directions; East, South, West and North. It is in this tradition that a blessing is offered in support of this ceremony.
Blessed be this union with the gifts of the East.
Communication of the heart, mind, and body
Fresh beginnings with the rising of each Sun.
The knowledge of the growth found in the sharing of silences.
Blessed be this union with the gifts of the South.
Warmth of hearth and home
The heat of the heart's passion
The light created by both to illuminate the darkest of times.
Blessed be this union with the gifts of the West.
The deep commitments of the lake
The swift excitement of the river
The refreshing cleansing of the rain
The all-encompassing passion of the sea.
Blessed be this union with the gifts of the North
Firm foundation on which to build
Fertility of the fields to enrich your lives
A stable home to which you may always return.
To Love
As you take these vows, I would have you remember: To love is to enter a whole New World, a world of togetherness, a world of sharing.
Always remember those unique qualities that drew you to each other in the beginning…the thrill of discovery…. That wonderful feeling of oneness when your eyes met.
To love is to constantly search for new ways to bring each other to happiness, to make the most of every moment you share together.
With love there is no need to pretend…where you can be yourselves…. And know within your hearts, you will be accepted by one another.
To love is to always believe and trust in one another.
To love is to dream, and to dare…. And always believe that all things are possible with faith and love.
Friendship and Love
We have come together from near and far to celebrate your lives as individuals and to bestow our blessings upon you as you begin a magical journey together as husband and wife. We have come together to witness the creation of a brand new family, and to share in the joy of that moment with you. Your marriage will develop a true friendship between you and that friendship must be strong and able to withstand the tests of time. Remember that when you are a true friend to someone you want to spend time with them; you want to share with them; care for them when they are sick spiritually or physically; you want to learn new things with them;
you want to change with them; you want to grow in truth with them; and you want to experience all that life has to offer with them. Through this process you will wind-up on the same page together, and that is the secret to having peace and happiness in your lives. Take responsibility for making the other one to feel safe, and give the highest priority to the tenderness, gentleness, and kindness that your relationship deserves. Never allow anything to be more important than the one you have chosen to spend your life together with.
Love is an Adventure by Pierre Tielhart de Chardin
Love is an adventure and a conquest. It survives and develops like the universe itself only by perpetual discovery. The only right love is that between couples whose passion leads them both, one through the other, to a higher possession of their being. Put your faith in the spirit which dwells between the two of you. You have each offered yourself to the other as a boundless field of understanding, of enrichment, of mutually increased sensibility. You will meet above all by entering into and constantly sharing one another's thoughts, affections, and dreams. There alone, as you know, in spirit, which is arrived through flesh, you will find no disappointments, no limits. There alone the skies are ever open for your love; there alone lies the great road ahead.
The Art of Power
"The Buddha spoke about four elements that constitute true love: the capacity to be kind and offer happiness, maitri in Sanskrit, compassion, the capacity to relieve suffering, karuna; the capacity to bring joy every day, mudita; and finally, the capacity of nondiscrimination, upeksha. When there is true love, there is nondiscrimination. The pain of the other is our own pain; the happiness of the other is our own happiness…To make our love meaningful, we need to nourish our bodhicitta, our mind of boundless love and compassion…First, we learn to love one person with all our understanding and insight; then we expand that love to embrace another person, and another, until our love is truly boundless."
— Thich Nhat Hanh
Contact us today to plan your dream Thailand wedding. Just imagine yourself walking barefoot down an aisle of white sand and saying "I do". Let Creative Events Asia create a memorable moment with you.